Yikes, that storm on Sunday… It rained all day, I think I heard 7-8 inches, and the basement and living room have new leaks to prove it! -_-
Here's what I've been working on lately, the cross stitch piece I started last year. The blue dress is the part I've done over the past few weeks.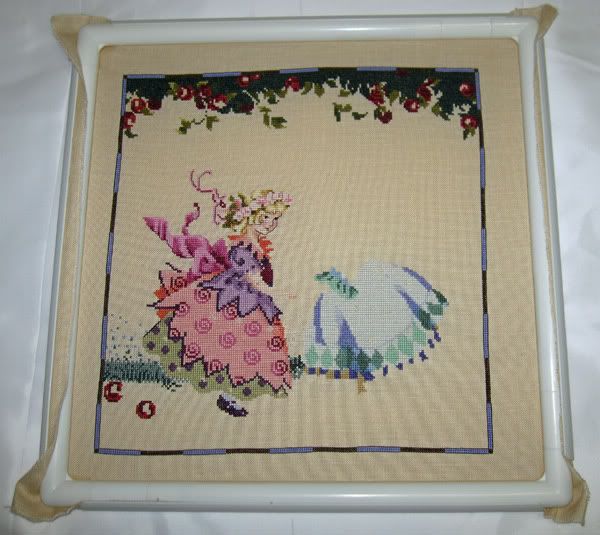 And finally, the end of the cosplay meme, which everyone else finished like a month and a half ago… >_>;
26. Any unfinished costumes? Will you ever finish them?
A few. I have a half-finished Ritsu kimono but I'm unlikely to ever finish it since I'm not really into Fruits Basket anymore. There's also an original stained glass fairy which has the dress done but no accessories; not sure when I'll finish it since I don't know when I'd have a good chance to wear it. And I started on Lia's Russian portrait gown from Le Chevalier D'eon last year but it got put aside; I think I'll try to finish that one for Katsucon.
27. How many wigs do you own? Which is your favourite?
I haven't done an exact count but probably 20-25. No real favorite. None especially stand out since I don't have any wigs in crazy styles.
28. Where do you work on your cosplays and where do you store them when they're done?
It depends on what part I'm doing. Patterning and cutting fabric gets done in the living room since my sewing room is somewhat small. I usually do machine sewing in the sewing room and then hand stuff in front of the computer while watching stuff. And they get stored in a closet when I'm done.
29. What is your favourite cosplay item? (eg. a pair of shoes, a wig)
Hmm… I've never really thought about favorite individual items. I guess my Petshop of Horrors plushies. T-chan is especially fun although it's been a long time since I've brought him along to a con.
30. Describe cosplay in three words. No more, no less.
Many hours crafting