So, I got the latest Japanese volume (7) of the PSOH sequel last week. I was quite amused when Count D got this outfit. XD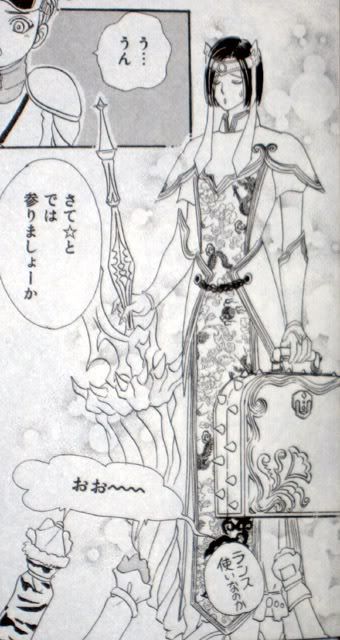 It's from a video game themed chapter called "Dragon Hunter." From the pictures, it looks like Femto brings a little kid who is frustrated with a video game to D's shop and then they go adventuring in one of the back rooms of the pet shop. T-Chan and Femto also get costumes for this. Kind of reminds me of the RPG episodes from YGO. XD
( more pics )
I'm rather tempted to cosplay this sometime. :-D I've been avoiding actual video game costumes the last few years since I tend to lose interest quickly after I finish/stop playing a game. So, this might be an interesting chance to do something more like a video game design. I don't know if I would bother with the props though. The suitcase would be handy for carrying stuff around while in costume but it would probably be a pain to get it to a con. Same for the huge umbrella. (Yeah, from another panel, it's actually an umbrella and not a weapon! ^_^;;)
And it looks like the Japanese publisher is starting to make new PSOH sequel chapters available online. There was an ad insert in the volume that included the link
http://publications.asahi.com/webcomic
and from there I found
http://comics.yahoo.co.jp/magazine/hfclub_0001.html
From computer translations, it looks like chapter 27 is up now (vol. 7 went up to chapter 26) and that the next chapter will be released later this month. You can click the little blue boxes next to D's picture to view the chapter. It took a while to load on my computer though and I could never get the box with the loading bar in the middle of the screen to go away.
I've also been thinking a bit about costume plans for AB. I had been hoping to do both Youko and Kyoya for that but I'm not sure if that's going to happen since the cold has been killing my motivation to go out and look for fabric. :-/
And I've been keeping myself entertained by playing Monkey Island games instead… >_>;
I should be able to finish Youko as long as I can find a fabric I like for the main robe. The clothes will be similar to the nyosen costume I did a few years ago so it shouldn't be too hard to make.
I'm feeling iffy about Kyoya though since I have a feeling it's going to take a while to find a complete set of fabrics and trims I like for the final episode costume. Plus, it's going to take more pattern work and fitting.
I've also been thinking about whether I want to enter the hall contest this year and right now, I'm not feeling like it. I like getting my stuff judged for craftsmanship but, after doing elaborate things like Sarah and 19th Century Count D for past contests, I kind of feel like I should save contests for my especially fancy or complicated costumes. So, Youko is just going to be for wandering the halls. I'd like to enter Kyoya somewhere after it's done but I'm kind of doubtful it'll be finished by AB.
I'd like to re-wear Ekaterina and Tamaki, if I can manage to get them to Boston by bus. And I'm not sure what else I'd like to bring yet.