Another little picture update. (I guess this is what happens when you cosplay for 3 weekends in a row. ^_^;)

thedreamerworld
posted a lovely preview shot from the Count D kimono shoot that we did with the cherry blossoms on Sunday. For those who haven't seen it yet:
http://www.acparadise.com/acp/display.php?c=36049
Unfortunately, the flowers in that photo will probably be gone by the time next weekend comes so I don't want to bother with a real cosplay for Sakura Matsuri; my brother and I are probably only going on Saturday and taking the subway which doesn't work well for the kimono style costumes I like to use for the festival.
Instead, I'm planning to make a Japanese print dress to wear. I went out on Tuesday to check the selection at The City Quilter. There were some pretty fabrics but I wasn't completely satisfied with anything for a dress. :-/ The stuff in stock ran mostly towards dark colors while I wanted something bright and pink or red. Then, some prints were too pastel or subtle; I also wanted it to look distinctly Japanese and not just like a normal floral print at first glance. These two seemed to be the best out of what was there. I didn't completely love either of them for this project but I bought them anyway, thinking that's all I would have to choose from.

Then, I came home and did some looking around on eBay. Found a pink print I bought a tiny piece of last year. I'd actually wanted that one when I made a dress last summer but the quilt shop no longer had it the next time I was there. So, I checked with the seller to see if they had enough for a dress and how long it would take to ship. There should be 3 yards of it on its way from the west coast and hopefully, it'll get here tomorrow. It's probably a bit crazy to be ordering fabric online this late. >_>; But I want to be cute and pink! Since I don't fit cute characters very well and usually don't get the chance to wear that kind of thing when I cosplay.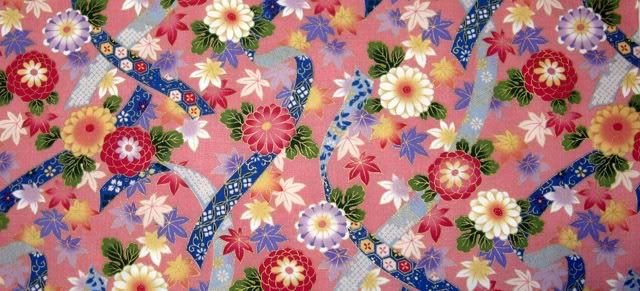 While I'm waiting, I'm working on cutting and sewing the lining. I'm reusing the pattern from
this dress
I made last year since I was able to get the fit about perfect and won't have to fuss with alterations. And I want to figure out something cute to do with my hair. I might take a stab at trying to make a simple kanzashi.