Merry Christmas! Hope everyone had a nice day. ^_^
It's been a somewhat busy week so it's nice that I can relax now. Monday evening, my brother and I dropped by

neoangelwink
and

loudnbothered
's place for a few minutes so I could give them their card and present. Tuesday was a business meeting and lunch, which went a few hours, followed by a little last minute shopping. Our solstice celebration was that night so there was a big dinner. I had a bit of a headache so I napped for a couple of hours before helping my mother and sister wrap presents for some of the store employees. This year, we put together gift bags with a bunch of candies and snacks so there were lots of little things to wrap and we didn't finish until around 1 AM. Wednesday and Thursday included some last minute crafting (I went though more than half a bottle of tacky glue within the past week! o_O;) and cleaning.
Today was spent at home. My family tends to be impossible to shop for so I just bought The Muppet Christmas Carol for us to watch this afternoon. We rarely watch movies together so it was something nice to do. And tomorrow we're having relatives over for a dinner party to celebrate my mother's birthday.
I still have to visit one friend over the weekend and give her my present but most people have gotten my crafty little gifts by now. So I can post some of the stuff I've made these last few weeks with out ruining any surprises! :-D
I made this pouch for neoangelwink. It's another design from the Omiyage book; this one is called "Avalanche Lily." The bottom piece is a large star and there are little triangle pieces sewn like godets between the points. It has a pretty interesting shape with the bottom being a pentagon and the sides slanting inwards towards the top. (My brother thought that it looked like a weird tiny hat when turned upside down! XD) The closed pouch is supposed to look like a star-shaped flower from the top but I think the cotton was a bit too stiff for it to work as well as the model in the book.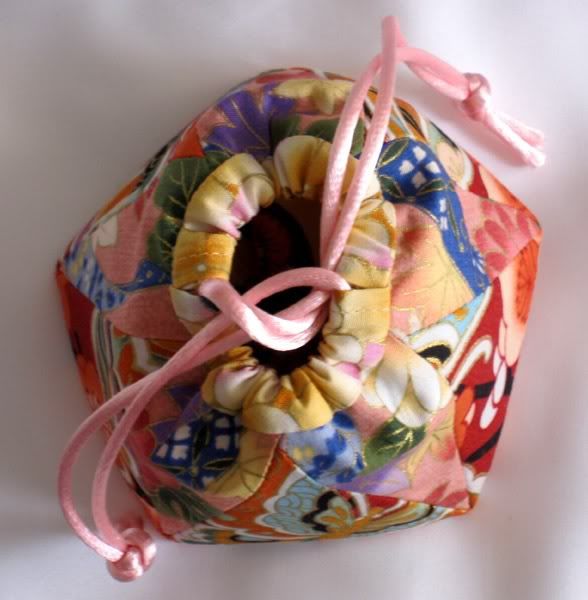 ( another pic )
The crochet project I mentioned some weeks back was a baby blanket for

sakuralenayuy
. I used a free pattern I found on the
Lion Brand yarn site
and their Wool-Ease yarn in pastel yellow. I actually made it yellow because of a story that my mother told me about a neighbor making a blanket as a gift when I was born; the neighbor had made it yellow so it would be suitable for either a boy or a girl.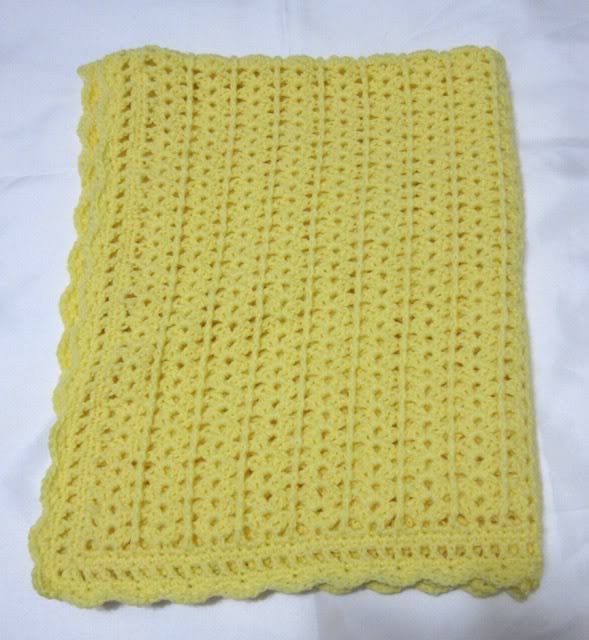 ( detail pic )
I stitched a Christmas ornament for

ngmaster
and an extra of the same design for myself. The design is called "Emerald Teardrop" and it's from a Mill Hill kit from the mid-1990s. I originally stitched the design ages ago but the hanger broke some years back and I've been meaning to remake it since then. I got new beads and finally got around to doing it this year!