Clothes for the new Count D costume are finished! :-D I just need to do a few touchups on my wig and get some background stuff up and then I can have pictures taken.
Unfortunately, I had to give up on the pearls since they were too heavy. -_- I got gold plastic beads like
these
instead. They were still expensive (I had to buy around $120 of them to have enough for the costume) but definitely lighter than the Swarovski pearls. I hope they don't end up looking too gaudy although they're definitely better than those shiny like a mirror gold beads; these look more like real gold with a bit of texture.
And, I spent part of Thanksgiving "building" an ottoman. XD I've been wanting a nice, antique looking chair to use for studio photos but most of the stuff I was finding was $200 or over. Then, a great idea hit me earlier this week. Several months ago, my father bought new foam cushions to replace the ones in an old sofa. However, my mother and brother both said they were too hard (If I stack 4 or 5 of them, I can sit on top of the pile without it sagging at all. That's how hard that foam is! o_O;) and the cushions ended up just being tossed into a corner to collect dust. I looked at them a few days ago and realized I could turn it into a chair by making a fabric cover to go over the stack. So, I bought a few yards of damask and some gold fringe and turned the
stack of cushions
into this: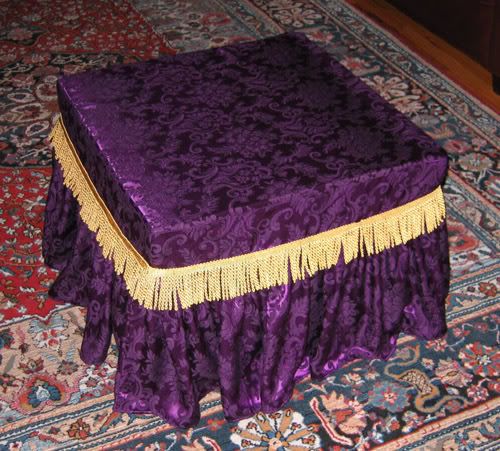 It's about 16" high and 24" square. I was able to do the cover with only about $30 of materials and a few hours sewing. :-D And I don't need to get an expensive chair now which is good since the D costume has been eating my wallet.
Sarah costume has also been started. I was able to make the pink petals from some leftover organza I had lying around and bought other fabrics last Thursday. Also made her necklace (which took like 2 minutes) and iron on appliques for the white flower on the dress. Started patterning the capelet/hood, too, but I couldn't find the hood piece from a cape pattern I used a few years ago (or any of the pattern pieces that I used then for that matter; they're not in the envelope and I have no idea where I put them -_-) so that means more work.
I've decided to work on getting some nice photos of the new Count D before NYAF rather than trying to rush through Sarah to have her for the con. I probably wasn't being very realistic when I first thought about doing her for NYAF anyway since I always end up forgetting to buy something or running out of an item and needing to make another trip. -_-; And most of the time, I end up taking longer to sew something than I think it will take. So, the silly martial arts loving diva will probably appear at Anime Boston instead.